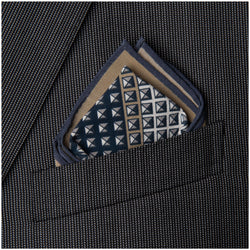 Pocket Square
THE GODS CONVENED | Blue
36cm x 36cm ( 14" x 14" )
100% Silk Satin Georgette, 10mm 
Faceted pyramids. Precise grid lines. Order amidst chaos.
Well before the rise of the Aztecs, planners of ancient Teotihuacan, "City of the Gods," mapped out the streets in a grid. Its sacred geometry dictated by the sun, the metropolis was flanked by the Pyramid of the Sun at one end and the Pyramid of the Moon at the other. Cosmic harmony reigned for six centuries.
Wear to channel your higher wisdom and align with the natural order of the universe.
PROVENANCE
A Brajoh original design
Silk printed in Como, Italy
Hem hand-rolled in North Carolina, USA
The collection's name is derived from a 500 year old Aztec poem fragment