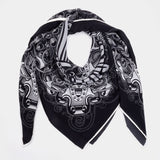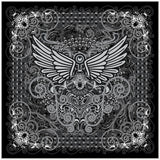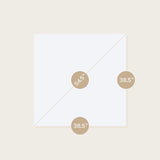 Scarf
Unfolding Far His Pinions | Cameo | Charcoal
98cm x 98cm  ( 38.5" x 38.5" approx.)
100% Silk Crepe de Chine, 14mm
The creative spirit takes flight
In Greco-Roman myth, Pegasus strikes the ground with a hoof and the sacred fountain of the Muses bubbles forth — those who drink from it are blessed instantly with the power of poetry. Magnificent Pegasus is the trusted bearer of Zeus' thunderbolt, weapon of heavenly justice. For his loyalty, Pegasus is set forever in the firmament by Zeus as a brilliant constellation.
Wear to set your imagination soaring, channel the power of the divine and shine like the star you are.

Provenance
A Brajoh original design
Silk printed in Como, Italy
Hem hand-rolled in North Carolina, USA
The collection's name is derived from Henry Wadsworth Longfellow's poem, Pegasus In Pound