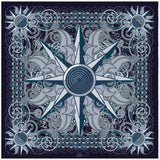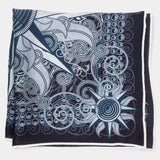 Pocket Square
Through Stellar Labyrinths | Blue | Satin
43cm x 43cm ( 17" x 17" approx.)
100% Silk Satin Georgette, 10mm

A radiant path across the cosmos heralds change, growth and transformation.
Distant planets whirl, stars leap and comets blaze luminous trails across the night sky. Witness to this interstellar play for millennia, cultures around the world have considered the comet's voyage to be a portent of fresh beginnings and momentous transitions.
Wear to spark new ideas and adventures, and to mark the milestones of your life's journey.
Provenance
A Brajoh original design
Silk printed in Cheshire, UK
Hem hand-rolled in North Carolina, USA
The collection's name is derived from a poem by Clark Ashton Smith