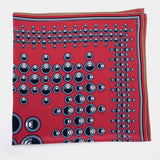 Scarf
AMID THE NOISE | Pink
98cm x 98cm ( 38.5" x 38.5" approx. )
100% Silk Crepe de Chine, 14mm
The Benevolent Eye is looking out for you
In early Egypt, the lidded eye of the god Osiris became a talisman of protection. Invoking the guardianship of a many different deities over the centuries, the symbol spread across the Middle East to the Mediterranean and beyond. Today the Benevolent Eye can be interpreted as a loving, supportive universe that holds you always in its gaze. 

Wear as a reminder that the universe provides and to live with open eyes and an open heart.
Provenance
A Brajoh original design
Silk printed in Como, Italy
Hem hand-rolled in North Carolina, USA

The collection's name is derived from Max Ehrmann's poem Desiderata