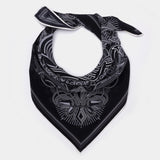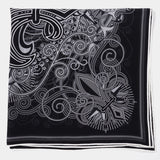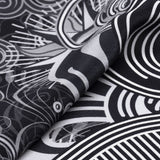 Neckerchief
Le Langage Des Fleurs | Charcoal
65cm x 65cm ( 25.5" x 25.5" approx. )
100% Silk Crepe de Chine, 14mm
In which all things are a miracle, even the simplest bloom
Legend holds that in 507 AD, France's King Clovis I crossed a river to victory atop the miraculous golden blossoms of lilies or wild irises. From legend to emblem, the fleur-de-lis (lily flower) gained nobility as the insignia of French heraldry and the French monarchy. Today you'll find its elegant, iconic outlines gracing flags, architecture and beautiful objects from Paris to New Orleans — everywhere the celebratory spirit flourishes. 
Wear to declare your joie de vivre and appreciation of the small things that make being alive a delight. 
Provenance
A Brajoh original design
Silk printed in Como,Italy
Hem hand-rolled in North Carolina
The collection's name is derived from a Charles Baudelaire poem